When embarking on a business trip, it's essential to be prepared for any unforeseen circumstances. One aspect that often gets overlooked is having a well-equipped first aid kit. Whether you're traveling domestically or internationally, accidents and emergencies can happen at any time. In this article, we will guide you through the must-have items for your essential travel first aid kit, ensuring that you are prepared for any medical situation that may arise during your business trips.
The Importance of a Travel First Aid Kit
Having a travel first aid kit is crucial because it allows you to address minor injuries and ailments promptly. By having the necessary supplies on hand, you can provide immediate care and prevent the condition from worsening until professional medical assistance is available. It's better to be prepared than to find yourself in a situation where you have no way of tending to a minor injury or illness.
Essential Items for Your Travel First Aid Kit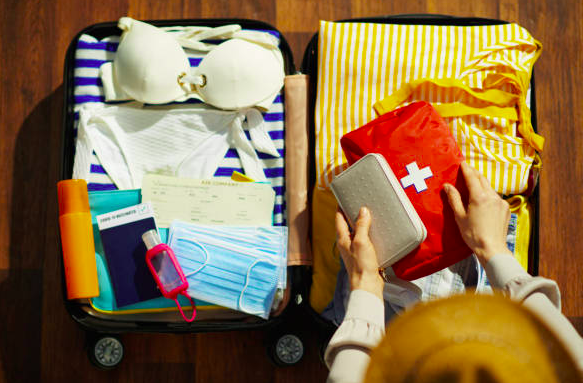 1. Adhesive Bandages
Adhesive bandages, also known as band-aids, are essential for covering minor cuts, scrapes, and blisters. They provide protection against infection and promote faster healing. It's recommended to include a variety of sizes and shapes to accommodate different types of injuries.
2. Antiseptic Wipes
Antiseptic wipes are crucial for cleaning wounds and preventing infections. They are convenient to use, especially when you don't have access to clean water and soap. Include individually packaged antiseptic wipes in your travel first aid kit for easy and hygienic wound cleaning.
3. Gauze Pads and Tape
Gauze pads and medical tape are essential for dressing larger wounds or applying pressure to control bleeding. Choose sterile gauze pads of various sizes and a roll of medical tape to secure the gauze in place.
4. Pain Relievers
Headaches, muscle aches, and fevers can strike at any time, and having pain relievers in your travel first aid kit can provide quick relief. Include over-the-counter pain medications like acetaminophen or ibuprofen, but always check with your doctor or pharmacist for any contraindications or allergies.
5. Tweezers and Scissors
Tweezers and scissors are handy tools for removing splinters, cutting tape or gauze, or trimming nails. Make sure they are small, compact, and have rounded edges to avoid accidental injuries.
6. Thermometer
A digital thermometer is essential for monitoring your body temperature and detecting fever. Choose a reliable and compact thermometer that provides accurate readings.
7. Disposable Gloves
Disposable gloves are crucial for maintaining proper hygiene when providing first aid. They protect both the caregiver and the injured person from potential infections or cross-contamination.
8. Antihistamines
Allergic reactions can occur unexpectedly, especially when traveling to new environments. Antihistamines can provide relief from common allergic symptoms like itching, swelling, or hives. Consult your doctor before including antihistamines in your first aid kit, especially if you have any specific allergies or medical conditions.
9. Oral Rehydration Salts
Traveling can sometimes lead to gastrointestinal issues like diarrhea or vomiting. Oral rehydration salts help replenish lost fluids and electrolytes, preventing dehydration. They are especially important when visiting countries with limited access to clean water.
10. Prescription Medications
If you have any pre-existing medical conditions or require specific medications, be sure to pack an ample supply for the duration of your trip. Keep them in their original containers and carry a copy of the prescription for reference.
Conclusion
A well-equipped travel first aid kit is an essential companion for any business traveler. By including the must-have items mentioned in this article, you can be prepared to address minor injuries, illnesses, and emergencies that may arise during your trips. Remember to personalize your kit based on your specific needs, and always consult with medical professionals for any specific concerns or requirements. Stay safe, be prepared, and enjoy your business travels with peace of mind.
FAQs
1. Can I pack my first aid kit in my carry-on luggage?
Yes, you can pack your travel first aid kit in your carry-on luggage. It's always a good idea to have it easily accessible in case of emergencies. However, make sure to comply with airline regulations regarding liquids, gels, and sharp objects.
2. Should I include a CPR mask in my first aid kit?
Including a CPR mask in your first aid kit is highly recommended, especially if you have basic CPR training. It provides a barrier between you and the injured person and reduces the risk of infection during rescue breaths.
3. How often should I check and restock my travel first aid kit?
It's essential to regularly check your travel first aid kit to ensure that all items are in good condition and within their expiration dates. Restock any used or expired items promptly to maintain the kit's effectiveness.
4. Can I purchase pre-packaged travel first aid kits?
Yes, you can purchase pre-packaged travel first aid kits that come with a variety of essential supplies. However, it's recommended to personalize the kit based on your specific needs and destination.
5. Is it necessary to have travel insurance?
While travel insurance is not directly related to your first aid kit, it's highly advisable to have adequate coverage during your business trips. Travel insurance can provide financial protection against medical emergencies, trip cancellations, lost luggage, and other unforeseen circumstances.
6. Where can I learn first aid skills?
To enhance your preparedness during business trips, consider taking a first aid and CPR course. Local hospitals, community centers, or organizations like the Red Cross often offer these training programs.