Maintaining a healthy diet is crucial for overall well-being, and this becomes even more important when you're constantly on the move as a business traveler. By making smart food choices, you can keep your energy levels up, boost your immune system, and improve your productivity. Let's delve into some effective strategies for healthy eating on the road.
Planning Ahead:
One of the keys to successful healthy eating while traveling is planning ahead. Before your trip, research the dining options at your destination. Look for restaurants that offer nutritious choices or have healthy alternatives on their menu. Additionally, consider packing some healthy snacks such as nuts, protein bars, or cut fruits to keep you fueled during the journey.
Breakfast on the Go:
Breakfast is often considered the most important meal of the day, and it sets the tone for the rest of your day. Opt for balanced options such as whole grain cereals, Greek yogurt, or oatmeal with fresh fruits. If you're staying in a hotel, take advantage of their breakfast buffet but make mindful choices by including items like boiled eggs, whole wheat toast, and a variety of fruits.
Healthy Snacking:
When hunger strikes between meals, it's essential to have healthy snacks readily available. Instead of reaching for sugary or processed snacks, choose options like mixed nuts, granola bars, or veggie sticks with hummus. These snacks provide essential nutrients, keep you satiated, and prevent unhealthy food cravings.
Dining Out:
Business dinners and lunches are a common occurrence for business travelers. While dining out, make wise choices by selecting grilled or steamed dishes instead of fried options. Opt for lean protein sources like fish or chicken and include plenty of vegetables. Be mindful of portion sizes and avoid overeating, as large portions can leave you feeling sluggish and tired.
Hydration Matters:
Staying hydrated is crucial, especially when traveling. Carry a reusable water bottle and aim to drink plenty of water throughout the day. Avoid excessive consumption of sugary beverages and alcohol, as they can lead to dehydration and energy crashes. Herbal teas and infused water are also great options for flavor and hydration.
Avoiding Jet Lag:
Traveling across time zones can disrupt your body's internal clock, leading to jet lag. While nutrition alone cannot completely prevent jet lag, making conscious food choices can help alleviate its effects. Stay hydrated, consume light meals, and consider foods rich in tryptophan, such as turkey or bananas, which can aid in regulating sleep patterns.
Exercise and Movement: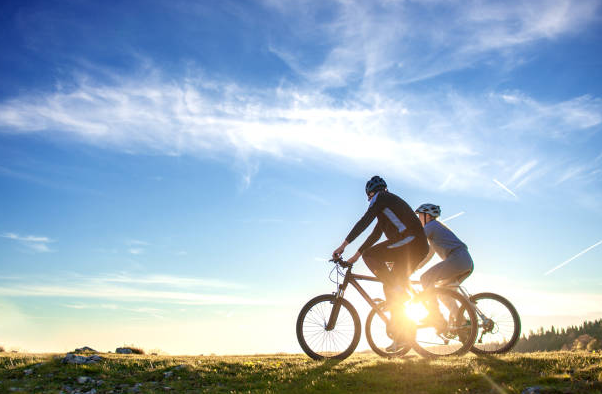 Maintaining an exercise routine while traveling can be challenging, but incorporating movement into your daily routine is essential for your well-being. Take short walks during layovers, use hotel gyms, or practice simple exercises in your hotel room. Physical activity not only helps you stay fit but also boosts your energy levels and reduces stress.
Beating Stress:
Business travel often comes with its fair share of stress. It's important to prioritize your mental and emotional well-being. Engage in stress-reducing activities such as meditation, deep breathing exercises, or journaling. Additionally, consider incorporating stress-busting foods into your diet, such as dark chocolate, avocados, or green tea.
Sleep Well:
Adequate sleep is crucial for maintaining your overall health and well-being. Establish a regular sleep routine, even when traveling, by ensuring a comfortable sleep environment and avoiding excessive screen time before bed. Create a winding-down ritual to signal your body that it's time to rest, such as reading a book or taking a warm bath.
Conclusion
As a business traveler, prioritizing your health through smart food choices is vital for staying energized, productive, and maintaining your well-being. By planning ahead, making wise dining choices, staying hydrated, and incorporating exercise and self-care practices, you can optimize your health while on the road. Remember, a healthy body and mind are your most valuable assets when it comes to achieving success in your business endeavors.
FAQs
Q: What are some quick and healthy breakfast options for business travelers?
A: When time is limited, opt for options like overnight oats, yogurt parfaits with fresh fruits and granola, or protein-packed smoothies that you can prepare in advance. These breakfast choices provide a good balance of nutrients and are easy to grab on the go.
Q: How can I maintain a healthy diet when attending business meetings and conferences with limited food options?
A: In situations where healthy food choices are limited, focus on portion control and selecting the best available options. Choose grilled or baked protein sources, load up on vegetables, and opt for whole grains when possible. Be mindful of added sauces or dressings that may be high in calories and opt for lighter alternatives or ask for them on the side.
Q: Can I still enjoy local cuisine while maintaining a healthy eating routine on business trips?
A: Absolutely! Exploring local cuisine is part of the travel experience. Look for restaurants that offer healthier versions of traditional dishes or focus on local ingredients. You can also balance out indulgent meals by making healthier choices during other meals and staying active throughout your trip.
Q: How can I manage healthy eating when faced with constant travel and unpredictable schedules?
A: Planning ahead is key. Pack nutritious snacks like dried fruits, nuts, or protein bars in your carry-on or briefcase. Research restaurants or grocery stores near your destinations that offer healthy options. Having a few go-to meals or restaurants in mind can help you make better choices even when time is limited.
Q: What are some smart food choices for business travelers with dietary restrictions or allergies?
A: If you have dietary restrictions or allergies, it's crucial to plan ahead and communicate your needs to restaurants or hotels. Look for allergen-friendly options or restaurants that cater to specific dietary requirements. Carry some safe snacks with you to ensure you have something to eat when suitable options are limited.